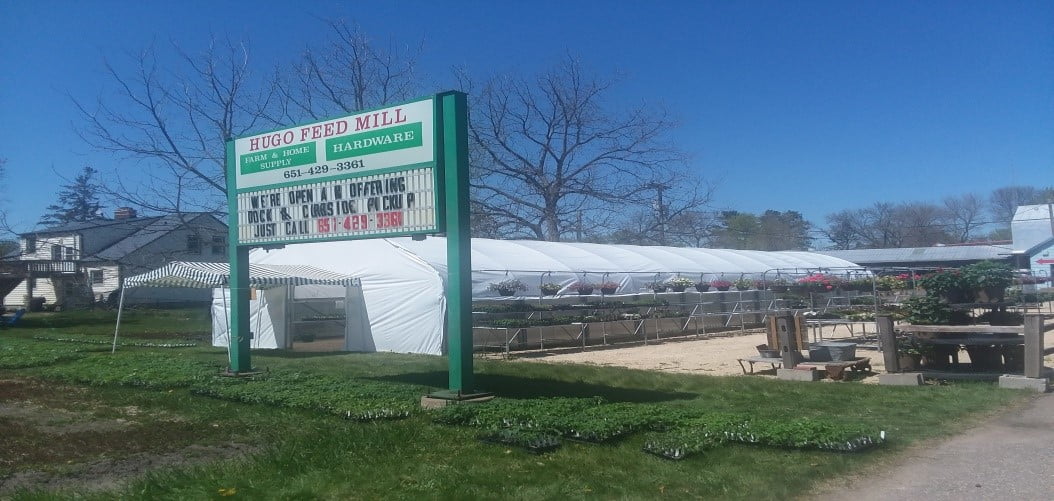 Due to the current circumstances, we have changed up the greenhouse a bit.
You are welcome to come into the greenhouse but if you are not comfortable with that we have curbside pick-up available.  For curbside or pre-ordering please call 651-429-3361, we will take your order with a form of payment.  After your order is filled we will call you.  Orders must be picked up within 24 hours.*
There are a separate entrance and exit. We also are only allowing only 10 people in the greenhouse at one time. We have posted signs to help you find the plants you are looking for.  We are hoping these changes will help keep our customers and our employees safe.
Our tomato and pepper lists are now available on our website at https://www.hugofeedmill.com/peppers-tomatoes/
As always we will try and provide you with the best experience and customer service that we can.
Our greenhouse hours in May and early June are:
9 am to 7 pm Monday thru Friday
8 am to 6 pm on Saturdays
9 am to 6 pm on Sundays
We look forward to seeing you.
*prepaid orders are non-refundable